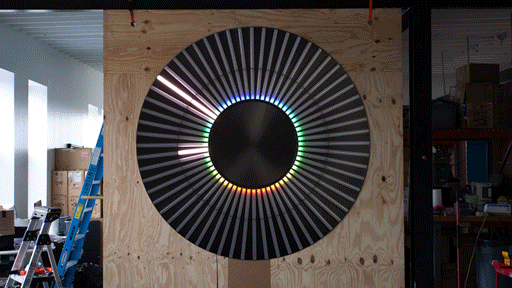 Rainbow animation in testing.
Luminous Objects
Luminous Objects, [LO] are a series of customizable LED installations developed using the same attention to detail that Iontank brings to our bespoke commissioned projects. Each piece is an inspired collaboration that showcases the innovative handiwork of our coders, circuit benders, animators and artisan fabricators.
The LO clock measures time in mesmerizing colors. Sixty segmented diffusion tubes create a vibrant time scale that maps the progress of the clock hands as they spin their way across poetic, kinetic, LED backdrops.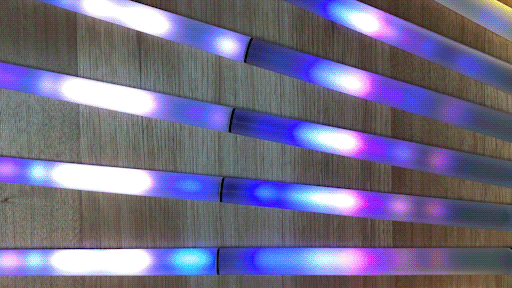 Detail view of hands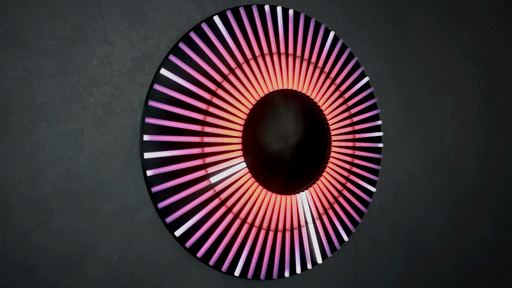 Testing animations
All sixty of the LED arrays around the clock face are tied to a central controller running custom software. The system manages the options for the current time display and animation sequences. The LO clock comes with an extensive library of ambient animations that change with each passing minute and dynamic flourishes to mark the hour.
Display parameters that can be adjusted include the overall brightness, the colors of the clock hands, the option of indicating the 12 hourly increments around the perimeter of the face, and even the animation style of the hands themselves.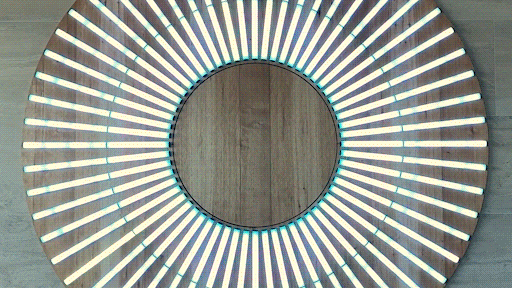 Timelapse of a cycle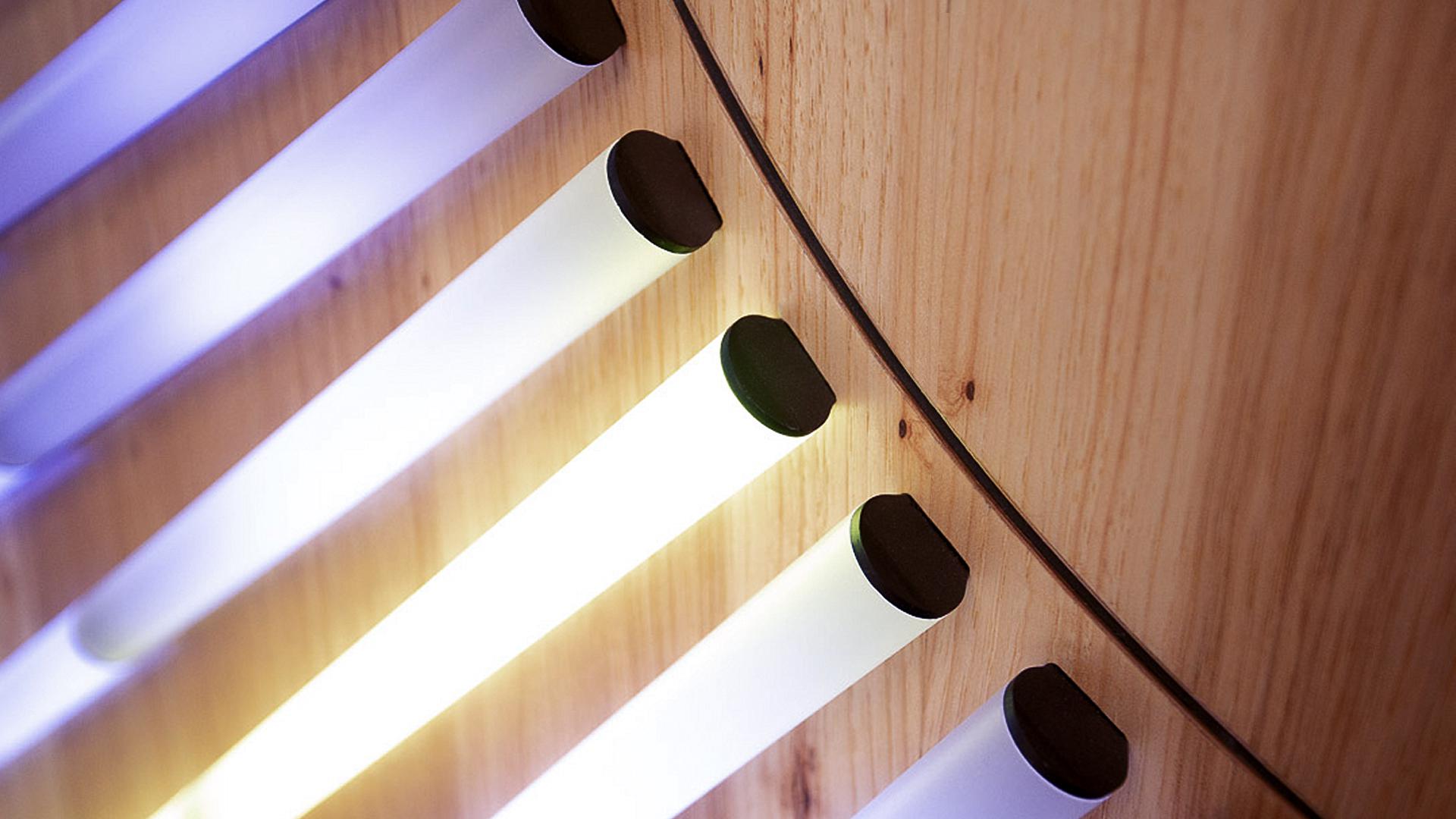 Hickory face
Finish Options
LO clocks were designed to accommodate flexible finish options. The body of the clock is precision milled from solid aluminum and then anodized with a rich, black, type III hard coating. Variants have been created with faces ranging from bookmatched hickory to richly veined marble. The minimal marble editions exchange the diffusion tubes for the translucency of the natural stone, so the colorful patterns are influenced by the inherent crystalline textures and unique inclusions of each piece.
Exploration & The Future
Beyond our anodized aluminum, wood, and marble clock face options, we currently have a list of new explorations on the drawing board, including carbon fiber and moss iterations. We welcome and encourage inquiries for customized LO clock variations that stretch boundaries in new directions.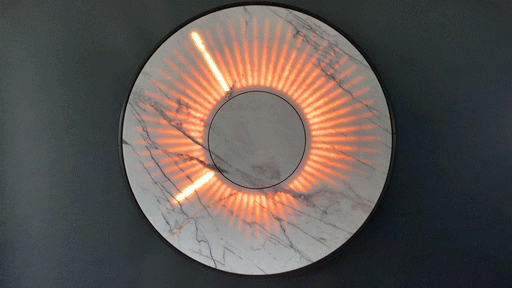 Marble variant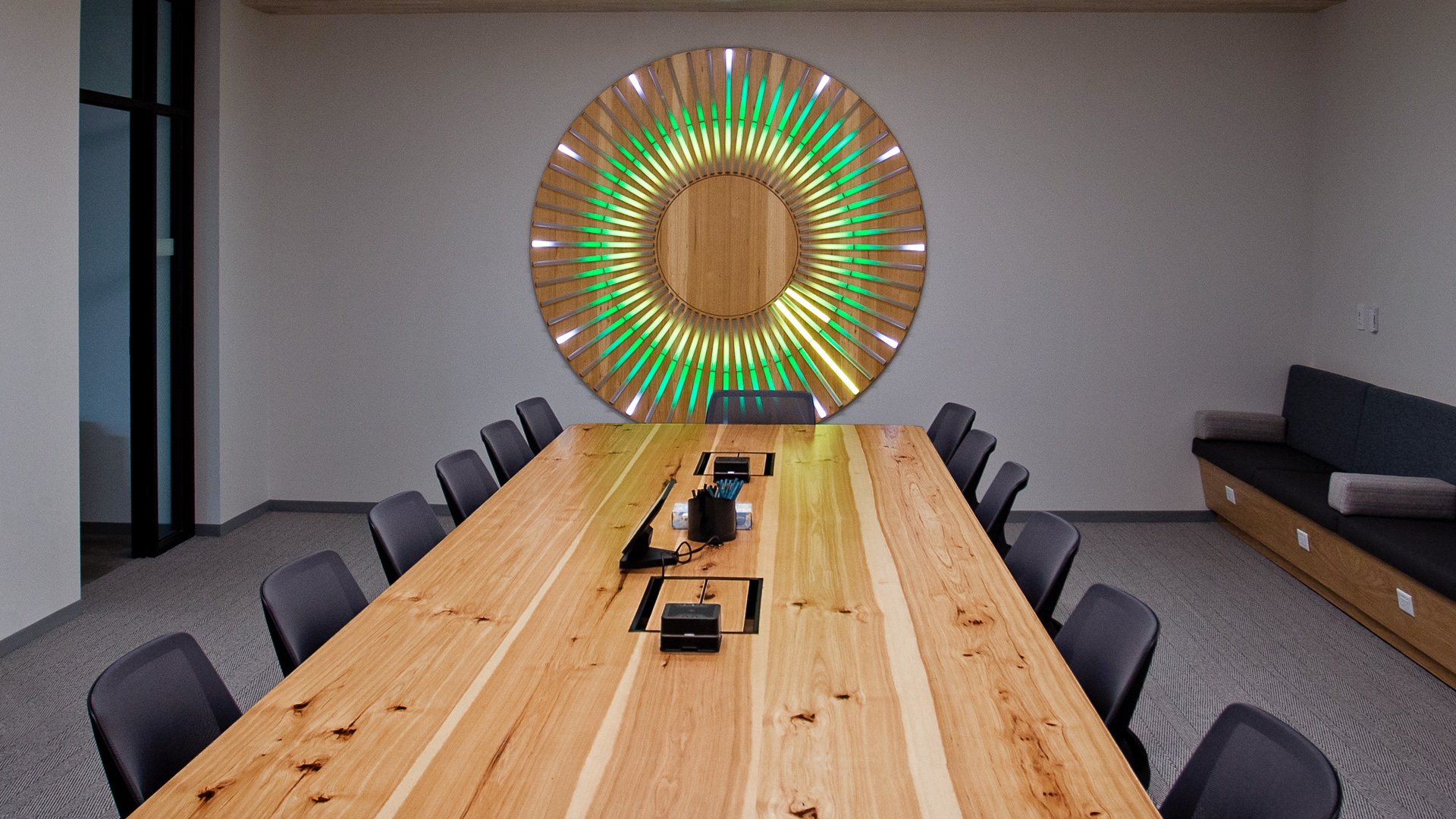 Hickory clock installed
Dimensions & Delivery
The full-sized LO clock with diffusion tube array is 66" in diameter. The minimal marble version without tubes is 49" in diameter. Approximate development time ranges from 6-10 weeks for new LO clocks, depending on specifications, preferred options, and delivery destination.
Iontank is a specialized design studio that develops interactive installations and software systems for Fortune 100 companies, award-winning ad agencies, world-renowned museums, industry-leading exhibition firms and inspiring event producers.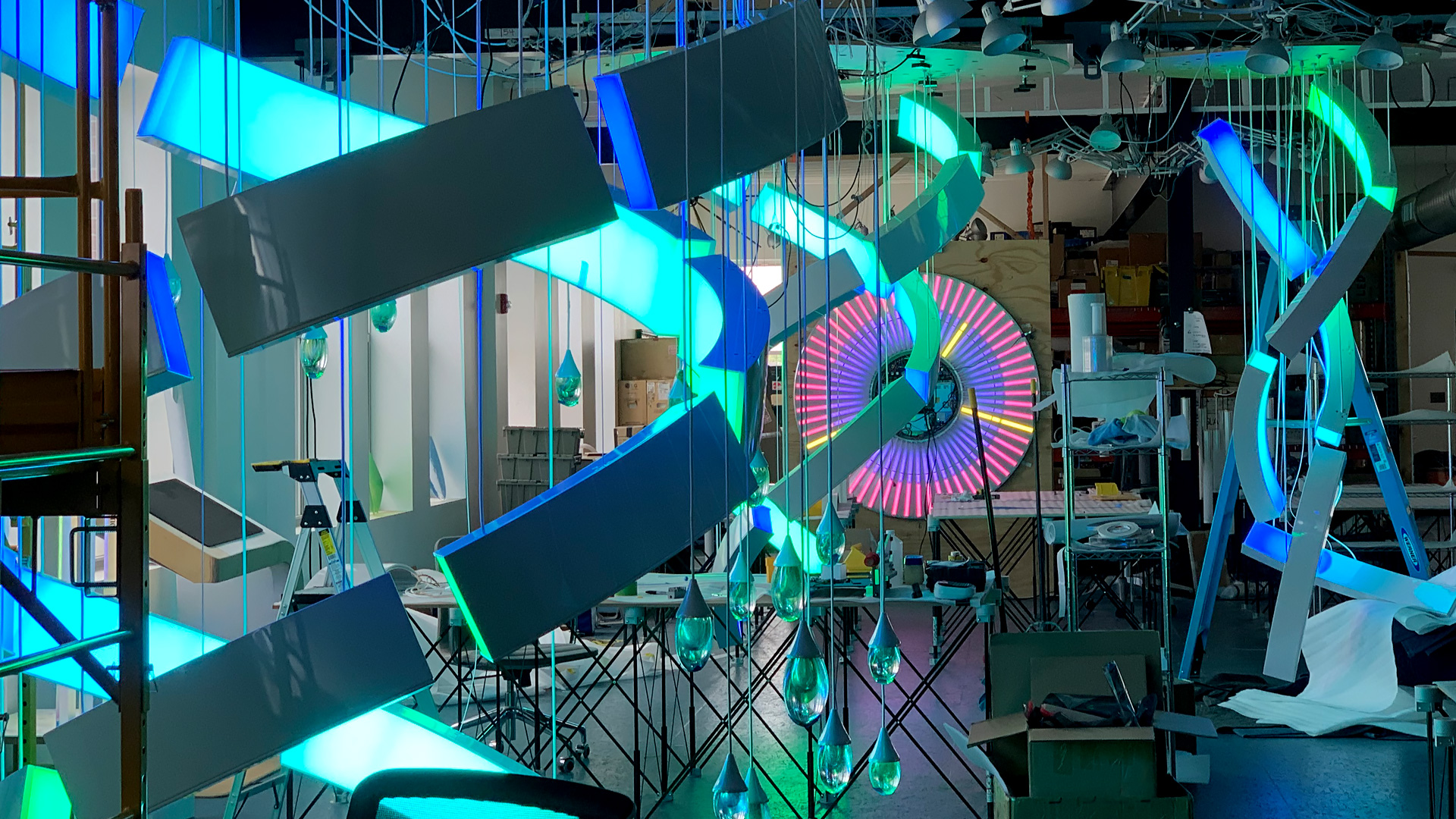 Testing in our Pittsburgh studio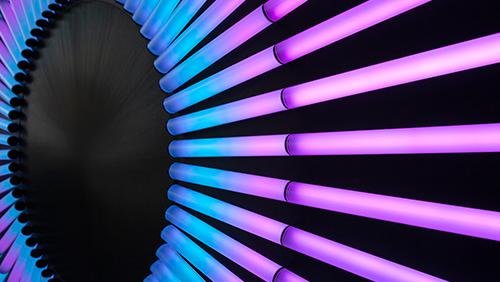 Clock detail
Our best work blends fine craftsmanship and technology in unexpected ways. We try very hard to make everything in house - from custom designed circuit boards to carpentry, and software code to complex welding work.
Each LO clock is a custom built design object. This allows us to ensure the highest level of fit and finish for each and every piece. This dedicated approach means that it typically takes us between 6 and 10 weeks to build to order. The time invested is well worth the wait.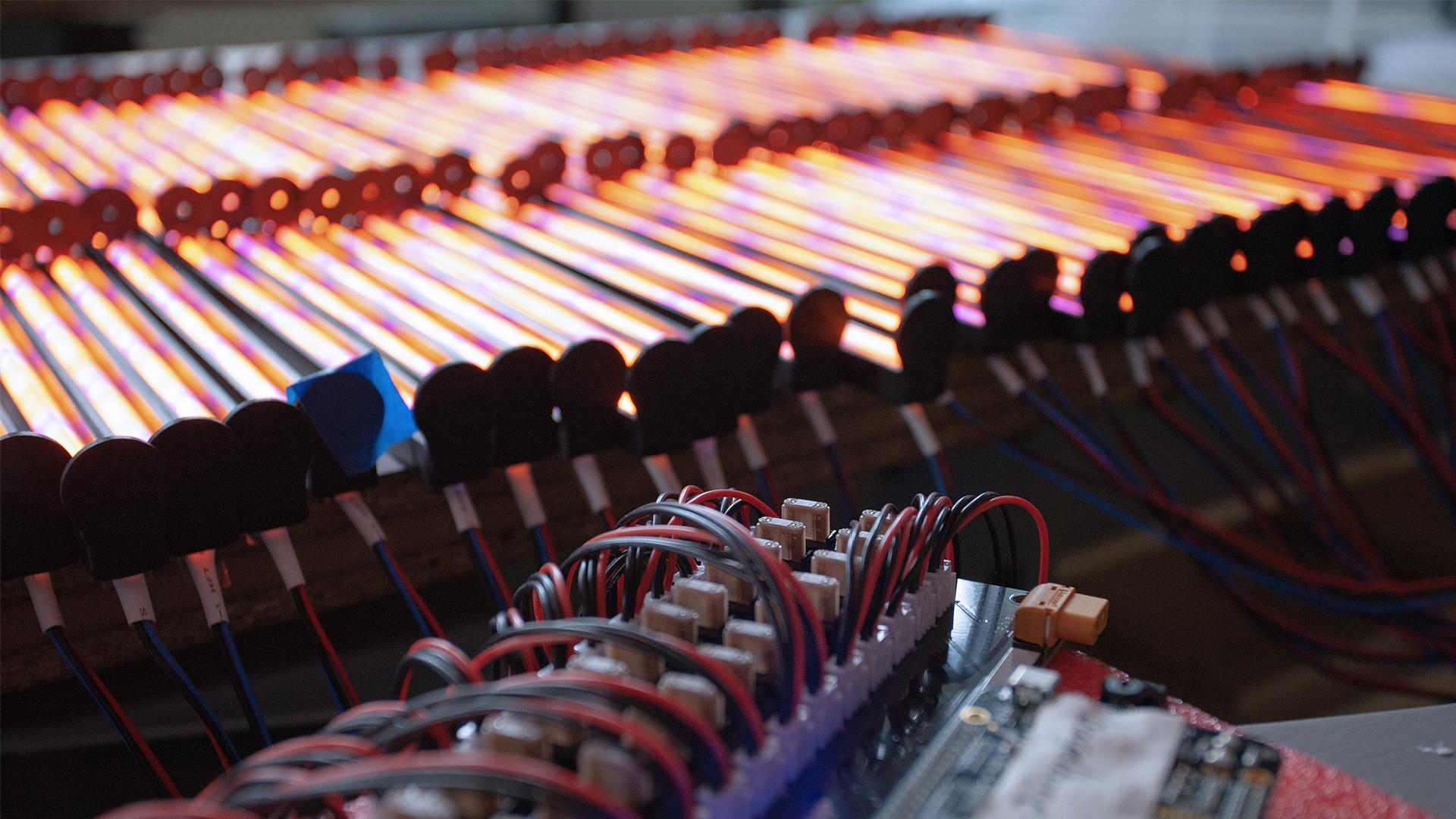 Testing the clock hands
Contact Us
For more information, order inquiries and press details: